Pittsburgh, Pennsylvania
http://www.visitpittsburgh.com/
The 5p- Society 2018 Conference will be held on July 26-29 at the Pittsburgh Marriott City Center, 112 Washington Place, Pittsburgh, PA 15219,

PLEASE NOTE THAT THE CONFERENCE HOTEL IS SOLD OUT OF ROOMS FOR THE DATES OF THE CONFERENCE AT THE REDUCED RATE OF $142.00 PER NIGHT
Make your reservations by calling (412) 471-4000.
Please note there is also an $18.00 per night parking rate with in and out privileges (it says $22, but it is $18).
Registration Opens March 1, 2018
Please download conference brochure here for more information
Dates to remember
Early bird discounted registration due by July 1st.
Register before July 1st to pay the discounted Family Registration rate of $150.00 for members, $200.00 for non-members, $75.00 for Professionals.  After July 1st regular Family Registration rates will take effect $200.00 for members, $250.00 for non-members and $100.00 for Professionals.
Family Registration:
Family registration is for UP to 2 adults and 2 children (under 17).  Additional adults are $50.00 and additional children are $25.00.Please note that a child is considered under 17 and will receive a child's meal at the banquet. If you would like your "child" who is under 17 to receive an adult meal, please indicated under "Meal Selection." You will be billed an additional $25.00. We recognize that some adults with Cri du Chat Syndrome may need a soft meal and the children's meal would be a better choice for them. If this is the case, please register them as a "child" and indicate under "Special Dietary Needs." Please fill out completely for each person who is attending. If you require additional information, please send an email to director@fivepminus.org.
Please use the paper registration link if you are paying by check or money order.  If you are paying by credit or debit card, choose one of the following online links:
5p- Society Members Registration link
Professional Registration link
Scholarship Opportunities to attend the conference
Each year the 5p- Society provides opportunity for families to attend the conference through their Financial Assistance Scholarship program. This year the 5p- Society has received funding for five (5) scholarships.  The scholarships will pay for one hotel room for the three nights of the conference (Thursday, Friday & Saturday) and registration for two 2 adults and 2 children.  To review the guidelines and to apply please go to the 5p- Society Financial Assistance Application.
REWARDS PROGRAM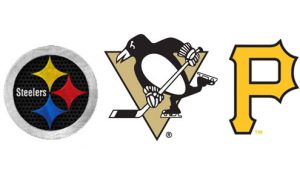 Raise money for the 2018 conference and get rewarded!
Pittsburgh Pirates Reward:  Raise $1500.00 and the 5p- Society will comp your registration fee for up to 2 adults and 2 children.
Pittsburgh Penguins Reward:  Raise $3,000.00 and the 5p- Society will comp your registration fee for up to 2 adults and 2 children and one night of your hotel stay.
Pittsburgh Steelers Reward:  Raise $5,000 and the 5p- Society will comp your registration fee for up to 2 adults and 2 children and 3 nights of your hotel stay.
THE CHAMPIONS OF 5P-
This year we will be preparing a picture of your child or adult with 5p-/Cri du Chat Syndrome on a Magazine Cover.  Please send your favorite picture to Laura at director@fivepminus.org.  Make sure it is in jpeg format and portrait pictures work the best.  Also, provide us with what you feel your child is a Champion of.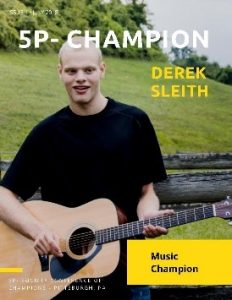 CONFERENCE OF CHAMPIONS
Yinz (you all) better red up (clean up) because the 5P- Society's Annual Conference for 2018 will be held in Pittsburgh, PA at the Pittsburgh Marriott City Center. This hotel is located across from the PPG Paints Arena which is home of the 2016 and 2017 Back-to-Back Stanley Cup Champions, the Pittsburgh Penguins. While entering the city, guests will experience a breathtaking view of the city while driving in on one of our famous yellow bridges overlooking the three rivers. Pittsburgh is known as the City of Bridges, Steel City because of its well-known production of steel, and of course, the City of Champions!
Yinzers (Pittsburghers) are super proud of their sports and have a large fan base from all over the world. The Pittsburgh Steelers have won 6 Super Bowls, Penguins have 5 Stanley Cup wins, and the Pirates have won 5 World Series Championships.
The City of Champions has a lot to offer with endless options for entertainment:
Pittsburgh Zoo & PPG Aquarium
Point State Park
Carnegie Museum of Natural History & Art
Mount Washington
Heinz History Center
Rivers Casino
Children's Museum of Pittsburgh
Sandcastle Waterpark
Kennywood Amusement Park
Carnegie Science Center
Strip District
Southside Works
Molly's Trolleys
Duquesne Incline
Gateway Clipper
Three Rivers
Just Ducky Tours
Flight 93 Memorial (82 miles away)
Brush up on your Pittsburghese and join us Dahntahn (downtown).
We cannot wait to welcome our 5P- Family to the 'Burgh to celebrate our Champions at the "Conference of Champions!"
Your Host Families are:
Derek Stevens & Marie Corrado
Johnna & Raeann Sleith
Patricia Fowler
John & Christina Yauch
Matt & Heather Grasso