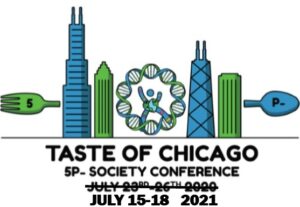 Join us for the 35th annual 5p- Society conference and get a "Taste of Chicago."
Conference 2021 will be held at the beautiful Eaglewood Resort and Spa, where the host families will bring the best of Chicago to you.
Please note that we are still in negotiations with the hotel at this time.  Due to COVID, there may be restrictions placed on the number of people we are allowed to have at the hotel and social distancing issues.  We will know more at the end of March, at which time we will make an announcement.
The plan at the moment is to be going forward with an in-person conference, with restrictions and then also having a live virtual component.  Stay tuned . . .
Chicago-style hot dogs, Italian beef, deep dish pizza, Garrett's Popcorn and cool off with a delicious Italian ice.
Families can enjoy movies while floating in the pool, a round of golf, or cosmic bowling.  You will be able to relax with the rejuvenating spa treatment or a fun yoga class.  We may even have a visit from Chicago's number one sports mascots.
We hope to see you in Sweet Home Chicago, July 15-18, 2021
Your Chicago Host Families
Conference brochure now available click link below:
Chicago Conference Brochure 2021
Hotel Information:
Eaglewood Resort & Spa, 1401 Nordic Rd, Itasca, IL 60143, (630) 773-1400  https://www.eaglewoodresort.com/
Room rates are $149 a night
You may now make your hotel reservations by either calling the hotel directly at (630) 773-1400 or through this online link –
Updated:   5p- Society Reservation Link
Please note that there is a one time $20 fee if you request adjoining rooms.  If you have any trouble making your reservations, please contact Laura at the 5p- Society office at 888-970-0777.
NOTE:  Hotel Reservations and Conference Registration are separate items.
Conference Registration:
Early-bird Conference Registration is now open. (There will be a $50.00 increase to each registration below after July 1, 2021) Here are the registration options:
Member – Individual registration (no add ons) $100.00  – register here
Member – Family registration (up to 4 individuals same family) $200.00 (each additional individual – same family – $50.00) – register here
Non-Member – Individual registration (no add ons) $150.00 – register here
Non-Member – Family registration (up to 4 individuals same family) $250.00 (each additional individual – same family $50.00) – register here
Scholarships: 
We will offer five scholarships.  The scholarships will pay for hotel room for three nights and registration fee for 4 individuals in the same family.  Link for scholarship Guidelines and Application can be found at:  https://forms.gle/89A3ScbWvzxoyLgd9