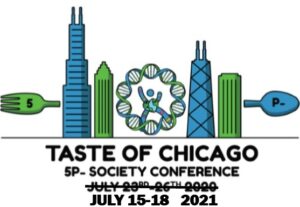 Join us for the 35th annual 5p- Society conference and get a "Taste of Chicago."
Conference 2021 will be held at the beautiful Eaglewood Resort and Spa, where the host families will bring the best of Chicago to you.
Chicago-style hot dogs, Italian beef, deep dish pizza, Garrett's Popcorn and cool off with a delicious Italian ice.
Families can enjoy movies while floating in the pool, a round of golf, or cosmic bowling.  You will be able to relax with the rejuvenating spa treatment or a fun yoga class.  We may even have a visit from Chicago's number one sports mascots.
We hope to see you in Sweet Home Chicago, July 15-18, 2021
Your Chicago Host Families
Conference brochure now available click link below:
Chicago Conference Brochure 2021
Hotel Information:
Eaglewood Resort & Spa, 1401 Nordic Rd, Itasca, IL 60143, (630) 773-1400  https://www.eaglewoodresort.com/
Room rates are $149 a night
You may now make your hotel reservations by either calling the hotel directly at (630) 773-1400 or through this online link –
Updated:   5p- Society Reservation Link
Please note that there is a one time $20 fee if you request adjoining rooms.  If you have any trouble making your reservations, please contact Laura at the 5p- Society office at 888-970-0777.
NOTE:  Hotel Reservations and Conference Registration are separate items.
Conference Registration:
Early-bird Conference Registration is now open. (There will be a $50.00 increase to each registration below after July 1, 2021) Here are the registration options:
Member – Individual registration (no add ons) $100.00  – register here
Member – Family registration (up to 4 individuals same family) $200.00 (each additional individual – same family – $50.00) – register here
Non-Member – Individual registration (no add ons) $150.00 – register here
Non-Member – Family registration (up to 4 individuals same family) $250.00 (each additional individual – same family $50.00) – register here
Scholarships: 
We will offer five scholarships.  The scholarships will pay for hotel room for three nights and registration fee for 4 individuals in the same family.  Link for scholarship Guidelines and Application can be found at:  https://forms.gle/89A3ScbWvzxoyLgd9
International Planet 5p Meeting:
An International Meeting will take place on Wednesday, July 22, 2020.  Families from  several countries around the world including Spain, Germany, Brazil, New Zealand, Cuba and Colombia will be joining us for a one-day meeting prior to the Chicago Conference located at  1401 Nordic Rd, Itasca, IL  60143 630.773.1400.
If you are coming or would like to come from one of our International cohorts and would like to join us, please register separately here:  https://5psociety.regfox.com/planet-5p-international-meeting-registration
There will be several scholarships available designated just for our international attendees.  These scholarships will assist in paying for the Chicago conference and hotel fees for four nights.  If interested please fill out the online form located here: https://forms.gle/83wcH6SsanLpaTUE6
Please note these scholarships are needs based.
Learn more about Planet 5p, it's mission and vision, along with future research.
Speaking at the International Meeting:
Carolina Nicolás—Planet 5p, Director of Communication
Cristina Bel—Planet 5p, Co-Founder
Janitza Montalvo-Ortiz, Assistant Professor Department of Psychiatry, Division of Human Genetics at Yale School of Medicine.
Round table discussion about future collaboration between the countries.