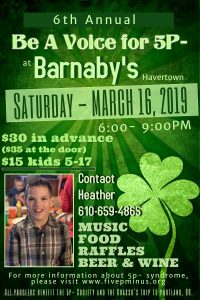 Please join us for the 6th Annual Be A Voice for 5p- Event!
Saturday, March 16, 2019
6-9pm
Barnaby's 
1901 Old West Chester Pike
Havertown, PA 19083
Tickets are $30 for adults ($35 at the door). Kids tickets ages 5-17 are $15 each

Register for this event by calling Heather Grasso at 610-659-4865.
Thank you for your continued support! See you there!